It's Showtime
In the modern casino resort, entertainment is turning the tables for more profitability.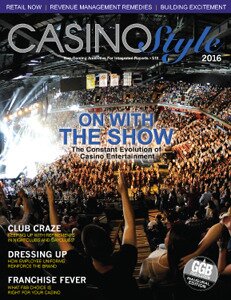 In May 26, 1978, Resorts International opened in Atlantic City, the first legal casino in the United States outside Nevada. In an iconic black-and-white photo, singer Steve Lawrence threw out the first pair of dice.
    
Steve Lawrence? A crooner in the Sinatra mold, Lawrence hadn't had a hit record in 16 years, since 1962's "Go Away, Little Girl." But he was perfect for the casino crowd, and that night, he and wife Eydie Gorme sold out Resorts' 1,400-seat Superstar Theater.
    
That was casino entertainment in the 1970s: Steve and Eydie, Sinatra, Wayne Newton, Elvis—they were kind of hip, kind of square, fairly tame, and middle-brow verging on middle-aged.
    
Today, the definition of casino entertainment is entertainment, period: rockers and rappers, country bands and blues bands, magic acts, Cirque-style spectaculars, game shows, poolside deejays and everything inbetween—including the venerable Lawrence, a fan favorite who continues to perform at 80. Even A-list movie stars are getting into the act. In "An Evening with Al Pacino," coming to the Venetian this month, the Oscar-winner will share tales from his legendary career, from Serpico to Shakespeare.
    
In other words, something for everyone.


The Circle of Life
The tilt toward a non-gaming economy isn't news. It began with a swell of new competition, which split the revenue pie, followed by the Great Recession, which made consumers more careful about their leisure spending.
    
Though the economy has improved, the competition for consumer dollars has only intensified. Every customer counts: graying slot players, young adults, teenagers and sometimes even children. And that means more and different kinds of entertainment.
    
"You have to focus on the whole spectrum, give the older clientele what they like but also inject stuff that's young and new," says Fedor Banuchi, vice president of entertainment for the Cosmopolitan of Las Vegas. "That gives you something to grow on going forward, because every year, someone 20 is turning 21, someone 30 is turning 31—it's a life cycle, a constant evolution."
    
While the quest for millennials makes most of the headlines, the average age of Las Vegas tourists last year was 47.7, and 65 percent of visitors were 40-plus, according to the Las Vegas Convention and Visitors Authority.
    
"If I book bands that focus on 60-year-olds, they sell as quickly as bands that attract people 25 and 30," says Banuchi. But that doesn't always translate to better profitability, he adds.
    
"Do I make more money booking a $75,000 act that appeals to 30 and under, because everybody is going to buy their tickets for cash and drink a lot? Or do I make more money if I book a legendary artist for $300,000, because the crowd is older?"
    
In the latter case, "I have to make the showroom all seated, so now I have less than two-thirds of the capacity than in a standing-room show. And more than 50 percent of the people aren't going to buy tickets—they'll get comped from the casino. You can't only do one thing or another; you really have to strategize."
    
Right now, he says, about 20 percent of his lineup is made up of cutting-edge performers for millennials (Jay Z, Drake); 20 percent is comprised of old-time rock-and-rollers, euphemistically known as "heritage" rockers (Steve Miller, Lynyrd Skynyrd); 20 percent ties in with one-off or periodic events (like the National Finals Rodeo); and the rest is "a mixture of tours coming through the market and comedy."


24/7/365
To hear his job title, you might think Howard Weiss never sleeps. A nightclub executive whose resume includes the Borgata and Harrah's in Atlantic City and Pure and LAX in Las Vegas, Weiss is now vice president of entertainment, day life and nightlife for Penn National Gaming.
    
His focus "is completely divided between day and night"—like the resort pool at Penn National's M Resort in Henderson, Nevada.
    
In a billion-dollar casino, every square foot has to pay. The M Pool spans 100,000 square feet of entertainment space and offers private cabanas, "Penthouse Patios" and other luxe upgrades. On weekend nights and holidays, it becomes the 21-plus DayDream Pool Club, with live dancers, celebrity deejays, "Rock Your Bod" bikini contests and other entertainment.
    
The pool at Tropicana Las Vegas, acquired by Penn National in 2022, does double duty. Covering two landscaped acres and featuring swim-up blackjack, it now features the after-hours Sky Beach Club. The club opened Memorial Day weekend, complete with a Kardashian (Rob) and his fiancé Blac Chyna as special guests.
    
While some entertainment is still geared toward "the higher-end elder customer," says Weiss, the focus is on up-and-comers who will eventually become the patron base: "the millennials who like pool concerts, nightclub events or the kind of mini-residencies that Caesars and Planet Hollywood did with Britney, Pit Bull and the others. Those things have been wildly successful and targeted right toward the 21-to-45-year-old demographic."
    
Tropicana will attempt to lure the same party-hardy contingent with its upcoming show, Cherry Boom Boom, described by Weiss as "a rock-and-roll-slash-go-go show with dancers, specialty acts, and an upscale bar and beverage perspective.
    
"As gaming begins to decline and level off," says Weiss, "entertainment is a really, really big component at the casino resort. It's now about the overall experience: entertainment, hotel, spa, food and beverage, pool—the whole nine."
    
By the way, the push to attract millennials into the gaming environment can be summed up in two words: Mr. Belding. Actor Dennis Haskins, who played the high school principal in the '90s TV sitcom Saved by the Bell, has become a popular guest at casino resort parties geared toward young adults 25 to 35, who grew up with the show.


Criss, Crobot and Clifford the Big Red Dog
Monique Sebastian, vice president of entertainment and marketing for Foxwoods Resort Casino in Connecticut, says the regional tribal resort caters to everyone, "from your 'Bingo Marys' to the core demographic of 45 to 65, to people 25 to 40 with a little more disposable income.
    
"For the middle demographic, we have Jeff Beck, Cheap Trick and all those classic rock shows. We add the comedy—Jim Gaffigan and Louis CK—plus pop, our Liquid Sunday pool parties, kids' weeks for holidays and vacations—everything to get them in our door, from Criss Angel to Clifford, the Big Red Dog."
    
Variety is especially important at Foxwoods, because for many it's an overnight destination, "with people driving in from New York or flying in from Florida," Sebastian says. To keep those guests happily occupied, the resort has become "very amenity-driven." Customers can shop at the sprawling, 80-store Tanger Outlets, bowl at High Rollers "luxury" bowling lanes, or take youngsters to the Tree House Arcade, which features classic video games "for the kid in all of us."
    
Today, no single customer demographic is most prized, Sebastian says. Even head-bangers are welcome. In September, Foxwoods staged its first-ever outdoor rock concert in partnership with AEG Live. With bands like Avenged Sevenfold, Anthrax and Crobot, the daylong extravaganza hosted some 15,000 people paying from $59.50 per ticket (presale price), with hotel and parking packages available.
    
"When you look at the whole, obviously we take care of the core gambler who visits three or four times a year; there's a certain spend associated with their visit, and we have a strategic focus on keeping them happy, whether it's promotions, entertainment, food offerings, the spa, or amenities like the golf course," says Sebastian.
    
"But I don't think one customer is more valuable than another. We treat everyone like a high roller, no matter their stature gaming-wise. That's what makes them come back—besides the product, it's the service."


Stripped Down
Mariah Carey may be dating a billionaire, but Australian casino magnate James Packer doesn't always have to pick up the dinner tab. Carey earned $500,000 per night for her Las Vegas residency at Caesars Palace in Las Vegas, which began in May 2022 and ended in September.
    
Britney Spears isn't hurting either. The pop princess pulls in $475,000 per night for her Piece of Me show at Planet Hollywood's 4,500-seat Axis auditorium. And sing no sad songs for Jennifer Lopez, though she makes a mere $350,000—or $3,888 per minute—for her 90-minute show All I Have, which runs on a split bill at Axis until December.
    
That's a sample of the serious coin commanded by A-listers in Las Vegas. According to Billboard, even deejays like Calvin Harris, Deadmau5 and Tiësto can pull down $400,000 a night.
    
But that's strictly on the Strip. Judy Alberti, former entertainment vice president for Station Casinos and onetime VP for entertainment and sports at Foxwoods, has programmed for mega-resorts and locals casinos. She's seen it all, from both sides.
    
Beyond budget, she says, geography matters, at least in Las Vegas. "I had 10 casinos, but none on the Strip, and getting artists to play off the Strip in an entertainment destination like that is always a challenge, no matter what size the venues."
    
During her time at Station, Alberti was known for nabbing a number of artists on the cusp of stardom. "We got the Dixie Chicks when they were on their first hit; by the time they got to us, a 500-seat venue was way too small for them, but thankfully, they honored it. Same with Joe Bonamassa in our blues series—now he's huge; you can't touch him."
    
Those "gets" earned Alberti points for clairvoyance; she calls it a combination of guesswork, radio play, buzz and sometimes, plain old odds-making. "For me, you hear a breakout song, you jump on it. You get that act booked before they blow up. We got out ahead of acts like Toby Keith and Keith Urban, most everybody in country who got famous after Tim McGraw."
    
On the flip side, in 2008 she opened the 4,000-seat MGM Grand Theater at Foxwoods with a superstar lineup that included Josh Groban, John Mayer and Alicia Keys backed by David Foster and his orchestra. "And that was spectacular."
    
Whether she's booking for a casino lounge or an arena, Alberti—now head of her own firm, Alberti Entertainment—is always mindful of relationships. "You're usually working with agents who book an entire roster, from $5,000 acts to million-dollar acts. If you handle their clients well, make sure the show is sold out and see that the artist has a great time, they come back."
    
Station Casinos won the Academy of Country Music Award for Casino of the Year five times—a record, Alberti says.
    
In the current environment, she agrees, it's important to offer entertainment for many tastes. "At Station, I used to joke that we were the only ones to book Jerry Vale and Keanu Reeves' band, Dogstar, in the same venue in the same week. We really were trying to talk to everyone, from 21 to 85."
    
And what makes a good entertainment executive? "You've got to be a multitasker," she says. "You're keeping all these plates spinning. You're juggling at the same time. It's also the relationships you're able to build. Ask an agent or artist or manager why they select one venue over the other, and often it's something to do with the integrity of the buyer."


Take a Bow
In 2022, even as Las Vegas set records for tourism with more than 42 million visitors, gaming revenue remained flat. But entertainment was up, along with hotels, restaurants, retail and conventions.
    
Even in Macau, the most gaming-centric jurisdiction in the world, operators are scrambling to develop theme parks with virtual-reality rides, Ferris wheels and other mainstream attractions to attract more tourists and compensate for a drop in gaming revenue.
    
It's something for everyone, with entertainment as the game-changer. The secret is to stay a step ahead, knowing that tastes will evolve, all things will pass, and the Jay Z of today is the Steve Lawrence of tomorrow.
Please
login
to post your comments.