Topping the Food Chain
Nationally known franchises have made a strong showing in casino F&B. People know and trust the brands. And so do operators.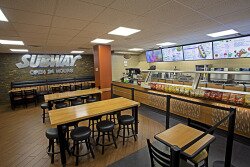 Franchise restaurants may not be the perfect fit for every casino, but gaming venues that buy into the franchise model find it a highly effective way to leverage the power of national brands, differentiate their F&B, and engage with a greater variety of customers.
Just ask Wendy Carter, marketing director for Oklahoma's Choctaw Casino Resort in Durant.
Fresh off a $255 million expansion that added a second hotel tower, luxury spa, 3,000-seat arena, 100,000 square feet of meeting space and a lively entertainment and recreational quarter called the District, Choctaw Durant also boasts as varied a food offering as any you'll find in Las Vegas: 12 casual and fine dining outlets that blend casino-owned-and-operated restaurants with well-known franchises like Gilley's, Subway, Papa John's Pizza and Smashburger.
It's a model the Choctaw Nation replicates across its eight principal gaming venues in the southeastern part of the Sooner State. The goal: maximum appeal.
"When you think of resort food and beverage, the mix is very important," Carter says. "You want your own brands, but that isn't enough. You need the recognition factor of these national brands. We look at our demographics, and with a mix, we're attractive to all our players."
The brands, for their part, love pitching their wares to hungry, willing consumers concentrated indoors in large numbers.
"If you look at it pragmatically, you have a captive audience," says Gregg Koffler, senior vice president of franchise development for Smashburger. "These are high-density, high-traffic areas, and if you're offering them a good food choice, they're not going to leave. They're going to eat there."

Grab & Go
Smashburger has outlets at Caesars Palace and the Rio Hotel & Casino in Las Vegas, where they serve a custom burger called the "Sin City," and a location in southern Nevada at Harrah's Laughlin. Sales average "well above" the company's as a whole, says Koffler—and that's across 380 corporate and franchise restaurants in 37 states and eight countries.
Smashburger likes the casino partnerships so much, the company currently is talking with gaming venues in no less than eight states about possible openings.
As Subway's Donna Curry describes it, it's a match made in fast-food heaven.
"One of the important things is we're open 24 hours," says Curry, development agent for Subway in southern Nevada, where the chain has 22 casino locations. "A lot of the restaurants and nightclubs shut down, so we're able to serve their guests who want something to eat in the wee hours. Our line moves very fast; if a guest wants to grab a sandwich and go to a concert or get something to eat after the show, or if they're at the tables and want to grab a bite and go back to gaming, we're there.
"A national brand is what people are attracted to, because they know the product. And we're healthy, too, so people say, 'There's a Subway—let's grab that.'"
It helps that the chains are experienced in adapting their product to the demands of the physical environment. As Koffler recalls, "We did a little bit of marketing in the trades and got the word out on the street: We were ready to roll out a prototype tailored for casinos, by that meaning locations that are a little smaller than our usual 2,500 square feet."
Curry's Subway locations can be as large as 1,200 square feet or as compact as 450. "I work on identifying unused space and work with casinos to create an income-producing area where there may be dead spots," she says.
Not to be discounted either: the confidence factor that comes with working with nationally known brands. "Casinos look for someone who's seasoned," Curry says. "They like experienced operators to make sure their guests are taken care of."
Carter says the recognition associated with the big brands drives patronage, for effective cross-marketing. "I think it's a win-win for both of us," she says. "It's a great opportunity for any retail or F&B operation."

The Vision Board
But surviving in what is obviously an increasingly crowded franchise field makes it more important than ever to differentiate your offering. Entrepreneur magazine picked up on this more than a year ago, writing in the January 2022 issue, "Companies that have been franchising for decades have high speed and low prices locked up, so newcomers are looking to compete on food quality and atmosphere instead."
This has resulted in a noticeable trend toward food choices that are more "personalized," exemplified in the "build-your-own" model that's increasingly popular for everything from burgers and subs to pizza and sushi.
Dallas-based Pie Five Pizza, an up-and-comer in this new "fast-casual" space, opened at Hard Rock Hotel and Casino Biloxi, its first gaming location, just over a year ago. "The feedback we're getting is over-the-top—great stuff," says Kurt Guttshall, the franchise partner who brought Pie Five to the popular casino on Mississippi's Gulf Coast.
Pie Five's hook: every pizza is custom-made from a menu that offers a choice of four crusts, seven sauces and 28 different toppings. Your pizza is dressed in front of you, then baked at very high heat in a special conveyor oven so that it's yours in two and a half minutes. And every pie is the same price.
Smashburger, not quite 10 years old, is another young company that's evolving fast. It recently branched out into alcohol service, teaming up with a Cincinnati-based boutique brewery, Christian Moerlain, to serve craft beers and ales tailored to different regional styles and tastes. The chain also works hard to counter the industrial image associated with fast food. Its diverse menu includes chicken sandwiches and salads, sweet potato fries, a vegetarian black bean burger and "Veggie Frites."
The Rio location came about, says Koffler, precisely because the resort was looking to rebrand its quick-service offering away from the traditional image of "fast food."
"They wanted a better offering," he says.
It's about knowing your customers, something casinos are very good at, says Wendy Carter, a veteran marketer with 13 years in the industry. "It comes from surveys, from monitoring every aspect of your resort activity over 20-plus years of operations in the area," she attests. "So we feel we can make very solid decisions about what our guests are looking for."

Easy as Pie
Guttshall is a believer. A longtime franchisee whose Birmingham, Alabama-based investment group runs 60 Applebee's restaurants, he never considered opening a Pie Five in a casino before the Hard Rock contacted him.
"We were a little skeptical," he says. "We asked Pie Five, and they weren't sure either, and they didn't want us to fail. But then we thought, let's try it, let's go for it. We looked at the site, the traffic was great."
He got a strong location, along a route where guests have to pass to get from the parking garage to the casino and the hotel front desk. It's also near the theater and the pool area. The outlet stays open extra late on weekends (until 1 a.m.). If there's a show, it stays open until the last customer is served. And it accept casino comps, a nice cost-saver for Hard Rock, which also gets a percentage of the outlet's sales.
"But I think the best thing is, people really like the concept, and they like the product," Guttshall says. "It's been a great partnership."
So great, in fact, that his group has returned its allotted territory, encompassing all of Mississippi, Alabama and eastern Tennessee, to Pie Five in exchange for an exclusive right to develop Pie Five restaurants in casinos anywhere in the United States. Gutshall has an agreement with Pie Five that calls for his group to develop 18 more outlets, 25 in all—"But they're not going to be in that territory," he says, "they're going to be where the best casino opportunity lies."
Smashburger's gaming expansion is part of a "non-traditional venues program" that's working well for the company and continues as a strategic priority. To aid in its nationwide casino search, Koffler says the company is working with Compass Group, a food services conglomerate that manages outsourcing for companies worldwide.
Guttshall says his group is "excited" about the potential in gaming. "We know the model works well. People like it. There are several casinos we've talked to that have no outside or external brand, and we're saying, 'Let's try it. Let's see if it works for both of us.' We know there's interest out there. The question now is finding the right location and the right property. The site has to make sense to us too."
Curry works with the same persistence. She says her "vision board" is what got Subway into Las Vegas Strip giants like MGM Grand, Mandalay Bay and the Venetian.
"I've been targeting these properties for years," she says. "It's about building relationships."
Please
login
to post your comments.
More Featured Articles