Retail Therapy
The Vegas shopping experience spans everything from kitschy souvenirs to Armani, Versace and Valentino. Here's what Las Vegas gets right about retail—and what's working at other resorts.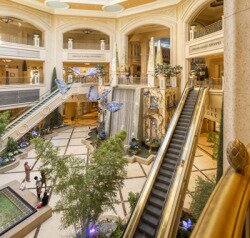 When the Gordon Group developed the Pier Shops at Caesars in Atlantic City in 2006, the company used the successful model of the Forum Shops at Caesars Palace in Las Vegas.
    
Naysayers said the Pier Shops wouldn't work, for two reasons: Atlantic City visitors were unlikely to park in a casino garage and hike across a casino to get to the shops. And they wouldn't spend money at high-end retailers like Gucci and Louis Vuitton. Though the nearby Walk outlet district had succeeded selling brand names at reduced prices, the Pier Shops failed.
    
But in Las Vegas, the explosion of retail shows no signs of abating.
    
"Las Vegas is a globally known and internationally visited destination, known not only for its casinos, resorts and gaming but also for entertainment, culinary options and as a shopping destination," says Maureen Crampton, director of marketing and business development for the Forum Shops at Caesars Palace.
    
Today, there's retail everywhere: the Miracle Mile Shops at Planet Hollywood; the Grand Canal Shoppes at the Venetian; the Linq; the Park; the Shops at Crystals; Wynn Esplanade; Encore Esplanade; and the soon-to-be Wynn Plaza.
    
"Shopping here beats shopping anywhere in the world," says Courtney Fitzgerald, communications manager for the Las Vegas Convention and Visitors Authority. "Stores range from affordable mid-price brands to luxury designer wear not unlike those found in New York, London and Paris."

Shopaholic Central
"Shopping, for many, has become the reason for the visit," says Don Thrasher, president of Park District Holdings, which operates the Park, a new locale in a neighborhood that includes the Monte Carlo, New York-New York, the outdoor Toshiba Plaza and the T-Mobile Arena. Much of the retail is connected to New York-New York, such as Hershey's Chocolate World, Stupidiotic and Cirque du Soleil's Zumanity Boutique.
    
"We found that the Las Vegas visitor of today wants to get outside, explore, and collect experiences during their stay," Thrasher says. "The Park and surrounding resorts provide opportunities to discover unique culinary offerings, inspiring art, live entertainment and interesting retail."
    
The company declined to reveal financial figures about the Park or its adjoining attractions. "But we haven't had any turnover in New York-New York's Strip-facing retail spaces, nor have we had any at the Park's food and beverage venues," Thrasher says.
    
Another marriage of outdoor retail, dining and entertainment is the Linq Promenade, at the heart of the Strip between the Linq Hotel & Casino and the Flamingo.
    
"The entire space is unique, from new-to-market tenants to nightly live entertainment and signature attractions" like the High Roller, says Bob Morse, president of hospitality for Caesars Entertainment. The High Roller—at 550 feet, it's the tallest observation wheel in the world—offers 360-degree views of the Las Vegas Valley.
    
"It's the attraction that draws guests from the Strip onto the promenade," Morse explains. "We recently launched yoga sessions on the High Roller, a one-hour experience that allows guests to find their Zen while taking in the views. We're getting ready to launch a chocolate-tasting experience for guests. And we also have the very popular Happy Half Hour, an open bar for those 21 and older."
    
Morse sees a direct correlation between High Roller visitors and those who spend time and money at the promenade. The marketplace offers approximately 40 shops and restaurants in a 200,000-square-foot area including Pier 30, Bella Scarpa and Ruby Blue.
    
"We encourage visitors to bar-hop, see a show, ride the wheel, dine the flavors of the world," Morse says. "There's no other location on the Strip that offers all of this, plus the added ambience of an open-air promenade."
    
It works. The Linq Promenade attracts as many as 85,000 visitors a day. Leasing is brisk and the demand from retailers and restaurants is strong. "We'll see the opening of eight new tenants by the end of 2023," says Morse.
    
"We have multiple ongoing conversations with potential tenants, but we're very strategic about who we sign leases with. We want to ensure that no two brands or experiences are the same."
    
The Linq Promenade is the only retail center in Las Vegas owned and operated by Caesars Entertainment. The Forum Shops, owned by retail giant the Simon Property Group, also remains a major force for Caesars, attracting up to 30 million visitors a year to some 160 specialty stores, restaurants and attractions, from ANGL to Versace to Zadig & Voltaire.
    
"We were the first in the industry to set new trends and raise the retail bar," Crampton says. The ancient Roman-themed building was home to many Vegas firsts: the first thematic shopping environment and the first celebrity-chef restaurant (Wolfgang Puck's Spago). It was also the first shopping district to bring in celebrated designers like Gucci, Salvatore Ferragamo and John Varvatos.
    
"The Forum Shops exemplifies how the perfect tenant mixture combined with the best brands and an immersive thematic shopping experience is the formula for year-over-year success," Crampton says.
    
"We're consistently among the top-performing retail centers worldwide based on sales per square foot. Numerous shops and restaurants declare their Forum Shops location as being the top in their portfolio."

Browse, Eat, Repeat
The 875,000-square-foot Italian-themed Grand Canal Shoppes at the Venetian and Palazzo feature cobblestone walkways and illuminated painted ceilings along a quarter-mile-long canal.
    
The venue adds the first West Coast location of Sugarcane Raw Bar Grill later this year, marking the James Beard Award-nominated Miami eatery's inaugural expansion, encompassing more than 6,500 square feet on Restaurant Row.
    
The Grand Canal Shoppes recently welcomed the first-to-market location of Mercato della Pescheria, an Italian seafood concept. Royce Chocolate, the notable Japanese brand, also made its Las Vegas debut here. And in September, Louis Vuitton opened a new store prototype and design based on the Atelier at Vuitton's SoHo boutique in New York.  
    
According to John Zilliken, senior general manager for Grand Canal Shoppes, "These additions and notable brands and dining establishments continue to position the destination for success."
    
By contrast, Atlantic City's retail and dining success consists of the Quarter at Tropicana Casino and Resort and the Walk, as well as more traditional shopping areas at resorts like Borgata Hotel Casino & Spa.
    
The former Pier Shops—named for their location on the site of the Million Dollar Pier on the city's famed Boardwalk—is now the Playground, which so far has struggled to find its footing under its new owner, Philadelphia developer Bart Blatstein.
    
The Quarter plays off its Cuban-themed walkways and architecture and its Havana Nights ambience, which plays well especially as the U.S. and Cuba renew old ties.
    
"Tropicana reminds people of a Las Vegas casino hotel," General Manager Steve Callender says. "When I first decided to come here, the Quarter was a big reason. It's a critical part of the property. Everyone has gaming. Non-gaming amenities are the most important thing we have. They're a major part of our success."
    
The Tropicana doesn't have access to sales per square foot and other measures, Callender says. "We do not own the space; we rent the shops. But we try and have a balance. Not everything is high-end. You can make a mistake and go too much in one direction. There's more value when you offer variety."
    
At Borgata, retail was part of the package from the beginning. But it wasn't a priority, says Vice President of Operations Joe Lupo.
    
"Retail simply is not a large focus considering the short stay of the Atlantic City consumer," Lupo notes. The availability of shopping elsewhere in the region makes retail in Atlantic City less important than spas, entertainment and dining. "We provide a small selection of nice products, most notably due to the value it brings to the comp dollars earned through My Borgata Rewards," Lupo adds.
    
The Walk has proven a profitable venture, expanding twice. Tanger Outlets declined comment for this article, but Rummy Pandit, executive director of the Lloyd D. Levenson Institute of Gaming, Hospitality and Tourism at Stockton University, calls it a "tremendous success, because it has a good mix of brand names. It caters to a lot of segments of the market." Unlike the Pier Shops.
    
"Atlantic City doesn't have the volume for that level of market. Las Vegas has 125,000 hotel rooms, 60,000 on the Strip. Atlantic City has 13,000 rooms," Pandit says. In a visitor profile a few years ago, the organization found that 60 percent of respondents had an income less than $100,000. Only 16 percent had an income greater than $150,000.

Talking Shop
Could Las Vegas reach a saturation point with too much competition for retail dollars? Possibly, says David G. Schwartz, director of the Center for Gaming Research at the University of Nevada, Las Vegas. "Casinos would have to repurpose existing retail spaces or build something that was more in demand."
    
The Linq's Morse has a different spin. "It's never been a competition between retail centers, as we strive to make each experience different than the last."
    
Vegas wouldn't be Vegas without consistent additions and reinventions, Fitzgerald says. "It's the nature of the destination to offer new and interesting venues, attractions, entertainment, etc., to its visitors."
    
The same can be said about Atlantic City. "We always look to add new experiences to Borgata, and as of late, we've spent some time speaking about retail," Lupo says.
    
Callender says more retail will help everyone. "If someone else builds something and more people come to Atlantic City, we're confident some of these people will come to Tropicana."
    
Other resorts outside Las Vegas have shown that the right mix of retail can be a positive amenity as well.   

Foxwoods has added a Tanger Outlets as part of its retail. Turning Stone Resort Casino in Verona, New York is also building a Tanger Outlets. Foxwoods also created its own boutiques with retailers like Bulgari, Chopard, Pandora, Michael Simon, Jared Lang and Hugo Boss.
    
"If you live to hunt for that perfect outfit, accessory or piece of jewelry, there's no better place to be than Foxwoods," says spokesman Adam Jalbert. The tribal resort, which welcomes 30,000 to 40,000 guests per day, reports $1,200 per square foot in daily sales by retailers.
    
"We're a study in the importance of presentation and transition," says Jalbert. "Always have something new for guests to explore."
Please
login
to post your comments.
More Featured Articles