50 Years of Amenities
Caesars Palace was the first themed casino and an innovator of non-gaming attractions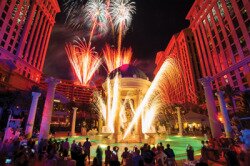 When Jay Sarno designed Caesars Palace as the first fully themed casino hotel in Las Vegas, he wanted each guest to be treated like a "Caesar." The hotel logo featured busty women feeding grapes to a reclining man (who looked suspiciously like Sarno himself).
   
But it wasn't only a theme that made Caesars Palace stand apart from other Vegas casinos in 1966. It was the nascent development of non-gaming amenities, which would become the property's signature.
   
The pool at Caesars Palace resembled a Roman bath. Although the pools of those days were hardly extravagant, current resort pools and spas are direct descendants of those water wonders.
   
And while every Vegas casino had the requisite high-end restaurants, steakhouses and buffets, Caesars Palace had the Bacchanal. Guests were advised to reserve at least three hours for this incredible dining experience, complete with toga-clad waitresses dubbed "Wine Goddesses" who offered mouthfuls of wine from bags carried on their shoulders. They'd even offer a back rub to any gambler stiff from sitting at the blackjack tables. (Today, the Bacchanal Buffet isn't quite as elaborate, but it does feature the most unique buffet experience in Las Vegas.)
   
In 1992, Caesars Place opened the Forum Shops, becoming the first casino to recognize the link between shopping and gambling. The venture was so successful, it expanded several times and inspired a dozen other shopping venues on the Las Vegas Strip and around the world.
   
And while every Las Vegas casino had entertainment, when Frank Sinatra left the Sands to take up residence at Caesars Palace, it became the place to be. He was joined by Rat Pack friends Sammy Davis Jr. and Dean Martin, among others.
   
In 2003, Caesars Palace opened the Colosseum for a residency with Celine Dion, and entertainers such as Elton John, Bette Midler, Shania Twain, Rod Stewart and others flocked to the property for mini-residencies of their own.
   
If nothing else, Caesars Palace was built for high rollers. The original casino, the Forum, is surrounded by 20 black Italian marble columns with white marble and gold-leaf trim. No other casino has been center-stage in so many movies, from Robert Redford's Electric Horseman to Dustin Hoffman's Rain Man to the ultimate buddy movie, The Hangover.
   
In August, Caesars Palace celebrated its 50th anniversary. It barely resembles its original silhouette (the first hotel tower has been renovated at least three times), and it has at least a half-dozen towers, a Nobu Hotel, and some of the world's best restaurants including Guy Savoy, Rao's, Nobu, Old Homestead and Mesa Grill.
   
For 50 years, Caesars Palace has blazed the trail for non-gaming amenities, a strategy that's been copied far and wide, from small tribal casinos to the massive integrated resorts of Asia.
   
Despite the financial woes of its parent company, Caesars Palace will continue to set the bar for non-gaming amenities—and revenues—in the industry.
Please
login
to post your comments.