Finding an Alternate Path
Flat gaming revenues encourage tribes to look beyond the casino for growth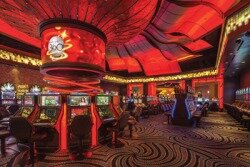 Welcome to the labyrinth. Tribal gaming presents numerous post-recession options, along roads that must be traveled carefully. While some contain potholes, others offer paths to prosperity.
   
Tribes are taking it all in. Many properties catch their breath and weigh, for the first time in several years, some interesting choices. One, should they realize modest profits in order to improve infrastructure and education facilities for members? Or two, is it better to risk those dollars via expansion to seek a larger profit in coming years?
   
Those who expand may do so modestly, rather than launch full-fledged projects. Most Oklahoma casinos enjoy this luxury, for instance, because they are small and relatively inexpensive to operate. Yet even in this locally dominated landscape lies one of the largest casinos in the world. Each property must carefully consider its options.
   
Viewpoints vary by region and corporate strength. Larger tribes have expanded into the world of diversification, which brings money back to them via different businesses; some are connected to gaming, some are not.
   
The Cherokee Nation has charged into the forefront of the outlet shop era and the Chickasaw Nation, which flourishes with 18 casinos, also owns racetracks and a chocolate factory.         
   
Oklahoma, Texas and the surrounding area sport a healthy outlook. The East Coast does not. Connecticut gaming powerhouses Foxwoods and Mohegan Sun don't have the luxury of cost-conscious expansion. Saddled with deep debt and pressured to protect market share against neighboring Massachusetts, which will soon have three casinos and a slot parlor in the heart of their sending area, they don't have the option to wait. They must spend, even while debt hampers the amount they can leverage. The plight of these properties—which once combined to create the fourth largest gaming market in the world—shows how severely top companies can be damaged in a down climate.
   
Each property must know itself, and its competition, in order to thrive. Designers and architects know where the tribes are coming from, and have a large playbook to offer them.

Oklahoma Enjoys Its Neighbors

Thalden Boyd Emery principal Chief Boyd has more than 50 years experience in this realm, and has worked with more than 100 tribal outfits.
  
"That just shows I'm an old Indian," he laughs.
   
Boyd, based in Tulsa, has observed and participated in numerous realms of tribal gaming. He is pleasantly surprised that the saturation point projected for gambling in casino-stuffed Oklahoma has not occurred.
   
"Every time I think Indian gaming is going to slow down, it continues to grow," he says. "One of the things that blows my mind, when you look at this statistically, is that there are 39 tribes in Oklahoma, somewhere between 130 and 140 casinos and a population for the state of 3 million people. But our gaming revenues, from a couple years back, were $3 billion, and they are growing.
   
"What we see happening, as crazy as it seems, is that a lot of gaming income is originating from adjoining states. The great thing for Oklahoma is not having competition from Texas, Arkansas and Missouri. That's been a major advantage."
   
Residents of Dallas in northern Texas therefore make significant contributions to Oklahoma's bottom line. Casinos in that area have a vested, or perhaps "reinvested" interest to build impressive properties and amenities for the Texas patrons.
   
Most Oklahoma tribes, however, thrive via the neighborhood philosophy.
   
"Indian gaming, for the most part, is represented by local casinos," Boyd says. "All money made in that area is spent in that area. So even if some funds are distributed to members, etc., the local economy, by and large, receives a boon."
   
Boyd sees more casinos enhancing their properties rather than launching expensive projects. Their budgets are more constrained than in past years. A design project may entail meeting one current need and anticipating another in the near future, but not rebuilding an entire property.
   
"A lot of the work we are doing now concerns revamping and upgrading casinos," he says. "After a casino has been going five or six years or so, you need to give it some new life, get it back into action. Much of what we look at concerns the amenities a property does not have.
   
"Are there enough parking garages and food court venues to satisfy the market? And what is the best fit?
   
"It amazes me, for example, how many Indians want to play golf. They just love it. But the return on that investment would be substantially smaller than other amenities they could put together to generate income for their bottom line. Parking garages are excellent additions, as are hotel rooms. We walk our clients through what levels of returns they could expect with the different approaches they would use with their amenities."
   
Boyd is happy that several tribes, including his native Cherokee, have taken the lead in diversifying. And he offers some non-design-related advice.
   
"You have to get some of that Chickasaw Chocolate," he laughs. "It is really good."
   
The Chickasaw Nation purchased its own company in 2000 and now has a 34,600-square-foot chocolate factory in Davis, Oklahoma.

Helping WinStar Win

It would be inaccurate to paint everyone with the same figurative architectural brush, according to Dike Bacon, principal for Memphis, Tennessee-based Hnedak Bobo Group. The company has extensive contracts throughout Indian Country and in non-native establishments. It has seen that one plan size never fits all.
   
"Competitive pressures vary widely across the U.S.," Bacon says. "Some markets are saturated and ultra-competitive with both Indian and commercial casinos on top of each other. Other markets can be fairly robust with just a few tribal facilities that may or may not even compete for the same customer."
    
Oklahoma is one of the most interesting markets he observes. Like Boyd, Bacon is impressed with the state's gaming credentials.
     
"There are casinos everywhere in Oklahoma, yet Indian gaming revenues have grown more than three times faster than national revenues," he says. "Oklahoma is almost a $4 billion industry. More than a dozen new or expanded facilities opened in 2020, and 2021 has shaped up to be another banner year for expansion and revenue growth."
   
As for the Chickasaw Nation, it's raining more than chocolate. It operates WinStar, the world's largest casino measured by gaming space. Hnedak Bobo works closely with this property.
   
WinStar evaluated its gaming position from two perspectives, Bacon indicates. One was how it stacked up against other casinos. Two was how the casino industry itself matches up against other forms of entertainment. It lies just five miles from the Texas border.
   
"WinStar certainly competes with other tribal facilities in Oklahoma but in many regards their primary competition is for the 'attention' of a savvy customer that has virtually unlimited entertainment options in one of the largest metropolitan areas in the country—Dallas/Ft. Worth," Bacon says. "Chickasaw spent a lot of time doing sophisticated research, in-depth customer surveys, and analyzing player data to find ways to expand their non-gaming options. This will drive new, more affluent traffic, and create marketing and promotion opportunities in the DFW metro area. Interestingly, Chickasaw's customers now come from all over the state of Texas."
   
Two new hotels have been added to the WinStar property—an 18-story, 340,000-square-foot, 500-room hotel tower and a 15-story, 297,000-square-foot, 500-room hotel tower. Both were designed by Hnedak Bobo Group and connect to an existing 12-story, 400-room hotel in a "Y" configuration.
   
This creative positioning allows each hotel to share a centralized reception and amenity core, including a grand new hotel lobby, a VIP registration hotel rotunda bar, a 200-seat, 24-hour cafe/dining venue and a new landscaped pool environment, Bacon asserts.
   
A strong industry trend the last few years is the addition of true multi-use or flex space. In addition to the new hotel towers, WinStar has added a new nightclub called "Mist." The space is a multi-functional, work-to-play venue. During the day it can be set up for business meetings and banquets and then at night it transforms into an atmospheric nightclub.

Cherokee Expansion

Cuningham Group, based in Minneapolis, Minnesota, has ascended along with tribal gaming since the 1980s.
   
One of its premier partners has been the Cherokee Nation, for which it has worked major areas of expansion in recent years. A project in the neighborhood of $650 million, Harrah's Cherokee in North Carolina obtained numerous awards, and a mid-range property set for 2022 completion looks to expand the tribe's market.
   
Smaller projects also are viable.
   
"We see a trend, especially in longstanding markets, that the operators must reinvent themselves because they are no longer the only casino in town," says Sam Olbekson, the director of Native American planning and design for Cuningham Group. "As they face competition they never had, a number of them are seeing revenues go down. They need more amenities to recapture the customers they have been losing. They are willing to tug, push and pull in the effort to get people back.
   
"What's important is to help them build on the success that is already there. Not all tribes will have a conference center, and a rural tribal casino may not have the amenities of a Las Vegas casino. But all of them have something unique to build upon."
   
It can be a river, ski trail, mountain range or home for seasonal activities like hunting and fishing. This presents a built-in advantage for any property expanding in these areas.
   
Mid-range projects are also popular. The Eastern Band of Cherokee Indians is building the new Valley River Casino and Hotel on an 85-acre tract of tribal land in western North Carolina. This is about an hour from Harrah's Cherokee Casino Resort and two hours from Chattanooga, Knoxville and Atlanta.
   
The $110 million project includes 60,000 square feet of gaming space and a 300-room hotel. It is expected to add 900 jobs.
   
"What's interesting is that the facilities are in one sense competing with each other because they are so close in proximity, and in another sense they are trying to expand their overall market," Olbekson says. "Again, you build upon something unique to the property.
   
"The 'wow' factor in the design emphasis was in the entry area. You will have a great hall and a casino attached to a hotel. The hotel is 30 feet above the casino, so you will have this great visual experience of descending down from the hotel 30 feet into the game floor. As you are leaving the hotel going into the casino, you get a great bird's-eye view of the long hall, the lighting, the wood ceilings, etc."
   
Olbekson says a property can subtly diversify its presentation to customers. In the big picture, it does not cost much to see the financial light—by projecting the real one.
    
"If you are there for five hours, you will slowly see the lighting change throughout the property," he says. "It is almost imperceptible, yet it gives you something that changes through different times of the day. One wall may reflect sunrise, the others will show sunset, the upper areas and the ceiling may have the colors of dusk."
   
This presentation is effective, but inexpensive, he says.

Non-Gaming A Major Draw

The Cherokee Nation can build more than casinos. Cherokee Nation Businesses is the tribally owned holding company of Cherokee Nation, the largest Indian nation in the U.S. The nation and its businesses employ 9,000 people and have a $1.3 billion impact on the state of Oklahoma alone. CNB owns companies in a variety of industries including gaming hospitality, personnel services, distribution, manufacturing, telecommunications, IT and environmental services. Two significant announcements occurred in early September.
    
Cherokee Nation Businesses will lease property west of the Hard Rock Hotel & Casino Tulsa to Woodmont Outlets, which will invest $80 million into premium outlet shops. The outlets are projected to offer more than 300,000 square feet of leasable space, and will focus on premium and upscale shops for about 100 retailers.
    
The development is projected to create 1,000 permanent jobs and hundreds of jobs during construction. Once complete, it is expected to generate $120 million in sales annually and attract an additional 2 million visitors to the area per year.  
    
Approximately 70,000 cars per day pass by Hard Rock Hotel & Casino Tulsa, which already attracts more than 2 million visitors per year and boasts a 90 percent occupancy rate for overnight guests, Cherokee officials say.
    
CNB is also planning to develop an entertainment and dining area called "The District." The District will directly connect the shopping area to the casino. The project will be completed in 2023.

Expand or Contract?

Debt be damned. Connecticut powerhouses Foxwoods and Mohegan Sun may be more than $3 billion in combined debt, but they must respond to competition looming in neighboring Massachusetts. Mohegan recently tried unsuccessfully to win a gaming license in Everett, losing out to Wynn Resorts. Penn National will open its slots parlor in Plainridge next year. MGM has won a license to open a resort casino in Springfield.
   
For Foxwoods and Mohegan Sun, doing nothing may be the largest gamble. Slot machine revenue has declined by one third since 2006. Each property is adding whatever possible to its lineup.
   
Foxwoods continues building the $115 million Tanger Outlet Mall, which broke ground late in 2020. Because of construction delays, it will not open for the 2021 holiday season as hoped, but is expected to open in May 2022, just in time for the summer campaign.
   
The new mall will be located between Foxwoods Resort Casino's Grand Pequot Tower and the MGM Grand at Foxwoods. It will encompass 300,000 square feet and feature more than 80 leading brand-name upscale fashion outlet discount stores.
   
The project is expected to create an estimated 400 jobs during construction and approximately 900 full- and part-time retail jobs upon completion.
   
Mohegan Sun already features abundant shopping and a major sports arena that hosts everything from professional basketball to major championship fights. Add indoor lacrosse, now that the Mohegans have acquired the Philadelphia Wings.
   
The Wings have become the New England Black Wolves' and play their home opener January 2 in the same arena that houses the WNBA's Connecticut Sun. Lacrosse games are expected to attract 9,500 fans. The combination looks formidable: a vibrant, fast-paced game with upbeat music and no down time meets a 24-hour gaming mecca. How do you spell Score?
   
The Mohegans, who operate three resort casinos out of their gaming division, made two previous 2021 announcements to invest in business outside their known realm.
   
Mohegan has acquired a wood pellet production plant in Ohio, with an agreement to buy a second plant in Indiana. The venture into the wood pellet production industry, called Northeast Wood Products, expects to sell more than 130,000 tons of wood-fiber pellets annually under the brand name ThermaGlow.
   
Mohegan Tribe's other diversification plays are its franchise agreements to open at least 15 Arooga's Grille House and Sports Bar locations and 16 Smashburger locations in New England over the next five years.
   
Diversification adds one more strength to the fiber of tribal gaming, which—with the help of key design and architectural firms—is settling in for a long stay.
Please
login
to post your comments.
More Featured Articles