Leisure, Seriously
YWS Design & Architecture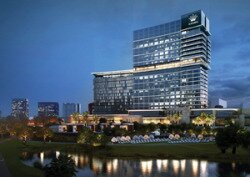 Leisure design is what YWS Design & Architecture does. It's all the firm does.
    
The firm has deep expertise in hospitality, gaming, retail, dining and entertainment environments—in other words, places for people who love leisure and seek memorable experiences wherever they go.
    
At an integrated resort, successful delivery of that coveted experience relies on a sophisticated blending of each environment and a thoughtful integration of operations with innovative design.
    
Thirteen years ago, YWS was founded in the birthplace of the integrated resort—Las Vegas. The founding partners and executives are pioneers in the industry, having been responsible for resort giants like Bellagio and Mirage.
    
As Las Vegas has grown, so has YWS. It has expanded globally to add offices in the world's top leisure destinations: Singapore, Macau and Tulsa, Oklahoma, the home of YWS' Native American services hub. The company has worked with the biggest names in the business: MGM Resorts International, Crown Resorts, Wynn Resorts, Boyd Gaming and Resorts World. YWS also has partnered with entrepreneurial developers throughout Asia and beyond. Services also include interiors, with the belief that a well-designed project's extraordinary outside must be in harmony with its remarkable inside.   
    
YWS has grown its team of talent to always ensure fresh and bold ideas. The company is committed to this industry and its future. It is serious about leisure.
    
The vital piece of the YWS equation comes in the form of the three C's:
    
Creativity: YWS' international design team ensures that the environments it creates are unique, memorable and grounded in consumer insights.
    
Collaboration: As leisure design experts, YWS knows a lot about creating integrated resorts. It can design casino floors with optimal flow, craft a beautifully integrated podium, and conceive a layout that creates energy and an enduring vibe. What's needed is the client's vision. YWS' job is to align its expertise with that vision.
    
Certainty: This is where art takes a back seat to science. YWS is very serious about the way projects are delivered. It's no secret that projects run on money, time and resources—each must be monitored and balanced to deliver a project on schedule, on budget and to the promised design. YWS has made project execution a scientific process. The only looks of surprise should be delighted ones—at the grand opening.
    
For more information, visit ywsinternational.com.
Please
login
to post your comments.