Extraordinary Design is Timeless
Steelman Partners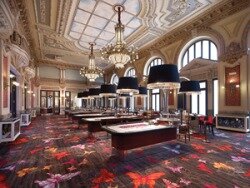 Established in 1987, Steelman Partners has positioned itself as a leader in the industry, boasting some of the most talented and acclaimed architects, designers, planners and artists, all working in-house. This international, Las Vegas-based firm specializes in the multi-disciplinary facets of hospitality and entertainment architecture, interior design and lighting design.
    
Steelman Partners owns and operates several affiliated design companies: Dalton, Steelman Arias and Associates; shop12 Design; Inviro Studios; and MARQI Branding Studio.
    
DSAA is a full-service interior design firm specializing in the creation of engaging interiors for the high-end hospitality, resort and gaming industries. DSAA has created entertainment-based, profitable interiors for thousands of restaurants and lounges, casinos and VIP gaming salons, spas, retail and performance venue projects across the globe.
    
Shop12 Design is a full-service lighting, visual feature and theater design studio specializing in creative collaboration on cutting-edge performance venues, custom visual and interactive environments and all facets of high-end hospitality lighting.
    
Inviro is an international animation studio creating content for the film, television and architectural industries, as well as collaborating on complete ride experiences. Responsible for original character design, scriptwriting, 3D space visualization and product merchandising, Inviro brings imagined ideas and concepts to the screen.
    
MARQI is an international branding studio focused on identifying the energy and identity behind every project. The studio specializes in creating universal stories that make an experience memorable. Naming, branding, storytelling and visual communication provide the catalyst for innovative concepts, unique services, signature products, themed environments and iconic structures.
    
Steelman Partners believes extraordinary design is timeless. Five global offices join forces to design master plans, casinos, integrated resorts and theme parks throughout the world, with more than 4,000 completed projects in its 33-year history. The firm's impressive client list includes Genting Group, the Venetian/Las Vegas Sands, MGM, Harrah's, Swiss Casinos, Sheraton, Hyatt, Plaza/El-Ad, SDJM, Melco, Caesars Entertainment, plus many others.
    
Steelman Partners is headed by recognized visionary designer Paul Steelman, a native of Atlantic City, New Jersey. He was honored with the 2010 Sarno Lifetime Achievement Award and received the 2006 HOSPY Lifetime Achievement Award. Steelman has been featured in many publications and visual media, including Forbes Magazine "Designing for Dough" and the Oceans 13 DVD (The Opulent Illusion).
    
For more information, contact Steelman Partners at 702-873-0221, email [email protected] or visit steelmanpartners.com.
Please
login
to post your comments.