Rockin' Out
Hard Rock Rocksino Northfield Park Northfield, Ohio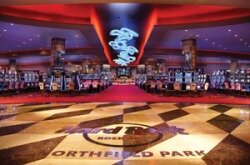 As Hard Rock's 2019 Project Development Partner of the Year, SOSH Architects, in partnership with Richard L. Bowen and Associates, was chosen to design the entertainment company's gaming property to be branded as the first-ever "rocksino."
    
The 155,000-square-foot stand-alone facility was built adjacent to racetrack Northfield Park's grandstand to expand guests' entertainment options. Northfield Park offers more than 200 live harness racing dates every year.
    
Venues within the all-new Rocksino include a gaming floor boasting 2,300 slot machines, a 2,000-seat live music arena, a 200-seat buffet, steakhouse, bistro, promotions, bus and travel lounge and two player's clubs. To convey Hard Rock's rocksino image, SOSH incorporated timeless yet contemporary design elements for a Hard Rock Cafe and casino center bar, a high-limit slot room, and multiple outdoor gaming rooms and smoking areas.
    
The design of Hard Rock Rocksino is unique because the casino is located in the center with clear circulation around the perimeter, showcasing wall space for Hard Rock's famous memorabilia as well as the restaurant, dining and entertainment areas.
    
Unique features of the property include articulating TVs and memorabilia cases that raise out of sight to provide a direct view of the Hard Rock stage during a band performance. Seven color-changing LED light fixtures created from millions of hand-applied crystal elements are programmed to lead the visitor from the entry to the Hard Rock Cafe. Black walnut live-edge wood planks hang overhead, welcoming visitors to Bernie Kosar's Wood-Fired Grill.
    
True to Cleveland's musical history as a birthplace of rock 'n' roll, the Rocksino offers the legendary vibe of the Hard Rock brand, including more than 2,200 gaming devices, varied dining options and live music events. The Hard Rock Live music venue, the fifth of its kind, hosts sell-out crowds of more than 2,000 guests for live entertainment by renowned musicians, in addition to hosting guests for a variety of functions and banquets.
    
In addition, the Rocksino has a 300-seat live venue, The Club, featuring comedians and illusion acts that are also readily available for private parties and events.
    
The supporting areas use a color palette of rich neutral tones with accents of reds, ambers and merlots. Principal materials used include masonry, glass and metal panels on the exterior, and stacked reclaimed wood paneling, Nathan Allen art glass, Shimmer Screen metal beaded curtains, natural stone flooring and countertops, and custom-design wall covering in the interiors.
Owner: Brock Milstein (operated by Hard Rock International)
General Contractor: Gilbane Building Company and Adam Building Company
Interior/Design Architect: SOSH Architects
Architect of Record: Richard L. Bowen and Associates
Investment: $200 million
Please
login
to post your comments.