Going Social
MEBar at Morongo Casino Resort and Spa, Cabazon, California • Bergman, Walls & Assoc.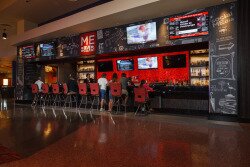 The Morongo Casino Resort and Spa outside Palm Springs, California, has a unique solution to attracting the millennials so sought-after in today's casino world. The theme for the casino's new MEBar is "Sit down, log in, drink up and start trending."
   
With a variety of unique cocktails and award-winning craft beers from the Dudes' Brewing Company in Torrance, the MEBar is an unusual interactive environment where guests can share selfies and musings on the high-definition, social media-linked monitors that pack the new lounge.   
   
"The MEBar will redefine the term 'hot spot' by allowing our guests to share the fun of a night out at Morongo with the rest of the bar and across the cyber-universe," says Simon Farmer, Morongo's executive director of marketing. "Our goal is to integrate social media into the lounge environment to create a distinctive experience that our guests won't find elsewhere."
   
MEBar monitors are linked to Twitter. Everyone tagging a tweet with #MEBar or #Morongo can see their posts appear around the bar and across the internet in near-real time.
   
Built alongside the High Limit Gaming Room, the sleek new MEBar features iconic fire-red stone walls, 15 LED TVs, a custom mural framing the outside, and a menu of camera-ready concoctions, perfect for snapping and sharing.

The MEBar is open 6 a.m. to 2 a.m. seven days a week.

Owner-Operator: Morongo Band of Mission Indians
Architect/Designer: Bergman, Walls & Associates, Las Vegas
Please
login
to post your comments.