Making a Spectacle
Hall of Treasures, Lake of Dreams, Crane Dance Resorts World Sentosa • Singapore Entertainment Design Corp.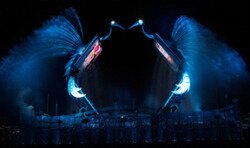 Usually, an escalator ride is a way to get from Point A to Point B. But not at Resorts World Sentosa, Genting's 121-acre resort in Singapore, which opened in 2010.
   
There, the Hall of Treasures transforms what is often a mundane trip into a magical mystery tour. As guests go from level to level, they're surrounded by mirrored cladding that creates an infinity effect. Visual motifs created by LED ribbons stream dynamic images of water, fire, earth and air.
   
It's just one of several multimedia, multi-sensory, mind-boggling guest experiences created for the resort by L.A.-based Entertainment Design Corp. The award-winning firm is known for eye-popping attractions and live productions including the spectacular stage show for Cher's three-year residency at Caesars Palace, Barbra Streisand's 2023 North American tour, the opening ceremonies for the 2002 Winter Olympics in Salt Lake City, and the giant Viva Vision screen at the Fremont Street Experience in Downtown Las Vegas.
   
EDC also produced Resorts World's Lake of Dreams, which transformed a pedestrian plaza into a dynamic entertainment destination. While beautiful by day, the lake explodes with color and imagery after dark. Light, fire and laser effects tell a story of good fortune as giant vines are transformed into fire-breathing dragons.
   
Perhaps the biggest crowd-pleaser is the Crane Dance display. This modern re-telling of an Asian folk tale tells the story of two mechanical cranes whose love for each other turns them into real birds. Created by Emmy-winning designer Jeremy Railton, the show stars a pair of 10-story, 80-ton mechanical cranes. Despite their size, they move with balletic grace in a touching courtship ritual accompanied by groundbreaking audio and visual technologies. The 10-minute nightly show is the largest dancing animatronics performance in the world, and the cranes are powered by 5,000 HP diesel engines, the kind used by railroads.
   
Using a cohesive narrative, EDC's "360-degree entertainment" approach extends the resort brand in multiple areas and elevates the guests' overall experience, paving the way for repeat visits and loyalty to the location. The firm's designers, directors, illustrators, producers and technical experts are capable of taking each project from start to finish—from concept through production and finally, to applause.

Owner: Genting Singapore PLC
Entertainment Overlay: Entertainment Design Corp.
Please
login
to post your comments.