Refined Rustic
Choctaw Grant Casino Resort, Grant, Oklahoma • Hnedak Bobo Group (HBG)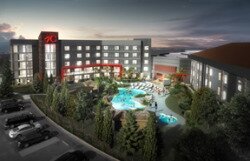 Last summer, the Choctaw Nation of Oklahoma broke ground on a comprehensive expansion and renovation of its Choctaw Grant Casino Resort in the community of Grant. On August 18, tribal leaders and state and local officials turned the first shovels for the project, to be designed and built by the Hnedak Bobo Group (HBG).
   
The project will improve the resort's existing operation and alleviate traffic while adding exciting new amenities.
   
The expansion includes:
A new 96-room hotel tower featuring 23 luxury suites;
A new lobby and check-in that will create an enhanced arrival experience for hotel guests, with a sundry, valet, bellhop and business center;
An expanded swimming pool and outdoor bar nestled in a tropical garden;
An exclusive new poker room and 125 new slot machines; and,
Food and beverage options including a new 155-seat bar and grill; an expansion of the popular Firehouse Buffet; and a  convenient new grab-and-go coffee shop.
HBG designers coined the term "refined rustic" to describe the design approach. At once contemporary, edgy and pastoral, the concept builds on the Choctaw brand's warm color palette as well as the existing property's transitional styling, natural textures and materials and wood accents.
   
The designers also drew inspiration from the Oklahoma landscape: grain stalks blowing in the fields, the vast open sky, and a natural palette of deeply contrasting colors. The team was especially taken with the shape and texture of the area's weather-worn grain silos.
    
The aged structures have a timeless, iconic aesthetic that combines wood and metal in a multitude of patterns, textures and patinas. This raw materiality within a distinctive contemporary form creates visual interest and consistency among new and existing building elements.
    
"Choctaw red" color accents throughout the resort will further reinforce the brand.
    
The resort will remain open throughout construction, which is expected to be complete in June 2023.

Owner-Operator: Choctaw Nation of Oklahoma
Architect/Interior Designer: Hnedak Bobo Group (HBG)
Employment: Estimated 80 new jobs
Investment: $50 million
Please
login
to post your comments.