We're No. 1
Plainridge Park Casino, Plainville, Massachusetts • JCJ Architecture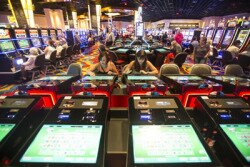 There's something about being first. People remember Neil Armstrong as the first man on the moon. Few remember who was second. People know Richie Havens opened up Woodstock. Does anybody know who followed Havens?
    
Neither do we.
    
Plainridge Park Casino opened in June 2022 as the first casino in Massachusetts. Working with Penn National Gaming, Turner Construction Company and JCJ Architecture designed and built the $250 million complex ahead of other proposed gaming developments.
    
The expanded racetrack features 44,000 square feet of gaming space with 1,500 slot machines and electronic tables along with live and simulcast horse racing.
    
But Plainridge is more than a place to make a bet. It has live music, upscale casual dining, and the first-ever Doug Flutie Sports Bar, named after the former Boston College and Patriots quarterback. A 1,100-space parking garage completes the complex.
    
First built in the late '90s, Plainridge began as an undistinguished two-story steel and metal structure. It was important to seamlessly integrate racing with the casino, says architect James T. Murphy, project manager and director of risk management for JCJ Architecture.
    
"To that end, there's a single entrance for all patrons. And the existing building is no longer all racing. The first-level track-side has upgraded finishes for track customers. The second-level trackside is now a banquet/multi-use facility that can accommodate up to 500 people."
    
JCJ upgraded the second-level Simulcast Theater to accommodate family dining, while converting the first-level simulcast into Slacks Oyster House and Grill.
    
Because the original building was nondescript, JCJ created a unified identity and appearance. "It got a facelift," says Murphy. "By applying finishes, colors and textures of the new onto the existing building, there's a visual relationship between the two. The exterior expresses a clean and contemporary geometry, inspired by the site's previous use as a rock quarry. By using stone to highlight each stair tower and by providing a sleek horizontal façade, the exterior has a distinctive, modern expression."
    
The design incorporates sustainable features including a broad array of solar panels which contributed to an LEED Gold certification. Storm water discharge is accommodated on-site and does not run off the property. In addition, Plainridge contains over 20 charging stations for electric vehicles.
   
The casino also references Flutie's hometown-hero status with a display of memorabilia. "To honor a very local and specific point of pride brings a special regional touch to the facility, creating a strong connection for first-timers or repeat guests," Murphy says.

Owner: Penn National Gaming
Architect: JCJ Architecture
Builder: Turner Construction Company 
Investment: $250 million
Please
login
to post your comments.