Ace in the Hole
YWS International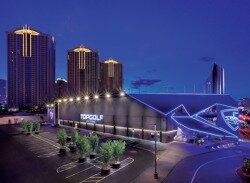 Bigger isn't always better—except in Las Vegas. That's where Dallas-based Topgolf and YWS International developed an extraordinary "golftainment" center spanning four levels and 115,000 square feet on eight acres adjacent to MGM Grand.
"The driving range gives the feeling of a fresh outdoor environment in the desert," says Holly Casswell, YWS senior interior designer.
Interior and exterior seamlessly connect, allowing guests to migrate from golf bays and pools to bars to cozy lounging niches. A mobile Sports Book in the Yard lets fans enjoy the action on giant HDTVs. The Yard is also home to Topgolf's main entertainment venue, which showcases local and national acts.
The greatest challenge: deciding what to do first. Play interactive golf hitting micro-chipped golf balls onto an expansive green? Explore the pools, retail shop or Callaway Fitting Studio? Visit the VIP suites or cabanas? Or simply enjoy the views in sleek, modernist golf bays with seating for up to six friends?
This is Topgolf "Vegas-ized"—an upscale, playful venue unique to the Strip.
For more information, visit ywsinternational.com.
Please
login
to post your comments.