Fast, Fresh & 24/7
Subway Restaurants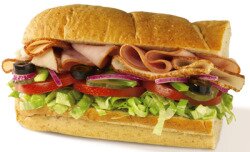 Casino resorts are known for unlimited dining choices, from high-end restaurants to all-you-can-eat buffets. But when your guests crave a fast, filling meal on the go, Subway is a natural choice.
        
Customers love the hearty, healthy food and speedy service. Casinos value the internationally known brand, strong corporate support and Subway's ability to turn even small spaces into profit centers.  
   
Perhaps most importantly, the restaurants are open 24 hours, says franchise owner Donna Curry, who operates locations in 22 Las Vegas casinos. "When other restaurants and nightclubs close, we serve guests who want a bite to eat in the wee hours," Curry says. "Guests who want to grab a sandwich and get back to the gaming table choose Subway."
   
Subway restaurants succeed because they fill a need—quickly and deliciously. Their sandwiches are made to order with fresh produce, lean meats and cheeses and other healthy ingredients on fresh-baked bread. In 2019, the American Heart Association chose Subway as the first restaurant chain to display its Heart-Check Meal Certification logo on selected meals.
   
As the undisputed leader in fast, healthy food, Subway is a winning bet for casinos.
  
For more information, visit subway.com.
Please
login
to post your comments.