Best Seats in the House
Gasser Chairs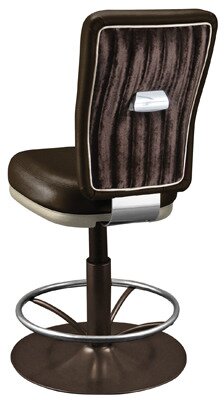 When the Viejas Band of Kumeyaay Indians expanded the gaming floor of their Alpine, California casino in 2022, they added 2,500 new slots requiring 2,500 new chairs. For Rich Marino, VP of slot operations, there was little question which firm would provide the seating: Gasser Chair Company.
"Many companies build a beautiful chair, but my concern is functionality," says Marino. "Gasser chairs are the most durable and high-quality." With a patented Halo circular base that "floats" across the carpet, the chairs "move like a dream."
Because Gasser is a manufacturer, it can craft custom designs like its famous "corset" chairs for the Bellagio with laces crisscrossing the back. The company even makes its own foam, and can adjust the firmness to meet the needs of each operator.
The Viejas team chose seating with a wear-resistant, textured fabric, gleaming bronze accents and rich hues that complement the casino colors. "Our customers immediately loved them," says Marino.
Beautifully engineered and built to last, Gasser chairs don't merely perform. They dazzle.
For more information, visit gasserchair.com.
Please
login
to post your comments.