Bedazzled
Entertainment Design Corp.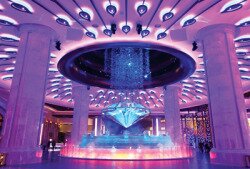 It may be one of the most talked-about attractions in Macau: the spectacular "Fortune Diamond" show in the lobby of Galaxy Macau.
    
The display was created by Entertainment Design Corp., the firm behind James Cameron's Titanic Experience at Fox Studios Sydney and Nicki Minaj's 2022 Pinkprint World Tour, among other extravagant productions.
    
During the show, the massive, glittering Fortune Diamond arises from a cascading water fountain and hovers in air, its facets seeming to change in color and reflectivity before it submerges once more. The gem symbolizes abiding prosperity—a fitting icon for the world's No. 1 gaming destination.
    
Casino Style asked Entertainment Design Corp. CEO Alex Calle to share a few of his creative secrets.

Casino Style: What technical challenges came with creating the Fortune Diamond?
Alex Calle: It was one of those projects where we pitched the idea during a creative charrette and it immediately landed. The sentence started with "What if…?" and the next thing we knew, we were building a show that magically revealed an eight-meter diamond floating in the middle of the main lobby water feature.
    
One of the biggest challenges was to make a diamond with the qualities of a real diamond on a grand scale. We did mock-up after mock-up, testing mirror boxes in different configurations, testing inner facet reflections, mirror quality, finish—and then, testing how to light such a fantastic icon.

CS: How did you create the special effects?
AC: We turned to our trusted film/television vendor relationships to help create these magical moments. They bring their long history in movie magic to help problem-solve efforts in our work—on a daily basis.

CS: Start to finish, how long did it take?
AC: Around 14 months from concept through design development, with eternal sketches, concepts and models until we settled on the perfect form to illustrate our core narrative.

CS: So the design relates a story?
AC: Absolutely. We pride ourselves as being storytellers, no matter the project. Working with Galaxy Vice Chairman Francis Lui, we established that we wanted guests to have a sense of fortune. Our hope was to make Galaxy Macau the luckiest place on the Cotai Strip.

For more information, visit entdesign.com.
Please
login
to post your comments.