Natural Splendor
Cuningham Group Architecture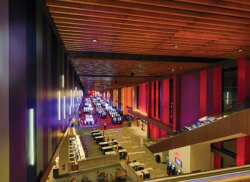 When Cuningham Group Architecture designed the Harrah's Cherokee Valley River Casino in North Carolina, it didn't fall back on the typical Appalachian rustic style (exposed beams, stacked stone, carved totems, et al.).
The structure emerges from the forest through bold vertical lines, with angled roof planes that echo the undulating terrain of the Smoky Mountains. Dappled multi-hued patterns on the façade are inspired by the forest canopy. Tall, vertical windows allow views in and out of the Great Hall and connect the activity inside with the landscape outdoors.
"There's a sense that this building belongs here—it's not just a box plunked down on the landscape," lead architect Sam Olbekson told the Smoky Mountain News.
A member of the White Earth Band of Minnesota Chippewa, Olbekson was uniquely qualified to lead the project. "I had the lens of my own experience of a native person living in a modern world and the duality of that," he said.
The resort, which opened in September 2022, is both contemporary and timeless—and as alive as the hills that surround it.
For more information, visit cuningham.com.
Please
login
to post your comments.