The Suite Life
SOSH Architects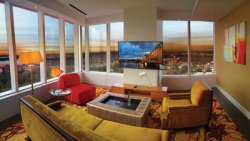 When SOSH Architects designed the new hotel tower at the Scarlet Pearl Casino Resort in D'Iberville, Mississippi, they ensured that each guest room had unobstructed views of the Gulf Coast.
Light and air stream in through floor-to-ceiling glazing. Ceiling heights top out at nine feet to maximize the views and fill the rooms with natural light, but blackout drapes ensure a restful night's sleep.
Lavish guestroom amenities include natural millwork, polished onyx countertops and California king-sized beds with exquisite leather headboards. Deluxe suites feature a living room and dining area that seats four.
The spa-like baths feature Italian porcelain tile, walk-in showers with recessed LED cove lighting, wall-to-wall vanities in a driftwood tint, and veneer silver travertine countertops. Suites include drop-in bubble tubs with Italian mosaic relief porcelain tile and luxurious gold tub decks.
The suite level includes a Concierge Lounge, where guests can enjoy those panoramic views under a "star-lit sky" ceiling feature.
Just say, "Ahhh…"
For more information, visit sosharch.com.
Please
login
to post your comments.